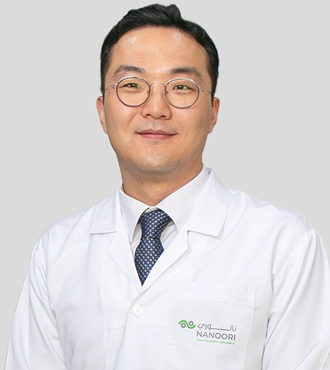 Consultant Orthopedic Surgeon – Specialized in shoulder & knee surgery
Dr. Dongcheul Shin, MD-PhD, is a Consultant Orthopedic Surgeon and head of the Orthopedics Department at HMS-Nanoori Korean Orthopedics Center. Dr. Shin is a leading South Korean surgeon specializing in shoulder treatment, joints, knees, and hips. Dr. Shin was the head of the Orthopedics Department at Nanoori Hospital Suwon, part of the Nanoori Hospital Group which is Korea's largest private spine and joint hospital group, before arriving to Dubai in 2020 to serve patients in the UAE. Dr. Shin is using the latest in Korean arthroscopic techniques and his services include both surgical and non-surgical intervention, pain management, regeneration treatment, replacement surgery, and more.
Dr. Shin has vast experience in shoulder and knee surgery techniques from South Korea, with expertise in sports medicine so he's been able to successfully treat over 8,000 cases over his impressive career. However, Dr. Shin is unique in that he is also skilled at other issues such as hip, bone, and joint disorders.
LANGUAGES SPOKEN
CLINICAL EXPERTISE & SERVICES OFFERED
Total and partial knee replacement arthroplasty (over 1,500 cases)
Foot and ankle procedures (over 500 cases)
Total and reverse shoulder replacement arthroplasty (over 500 cases)
Total hip replacement arthroplasty and hemiarthroplasty (over 500 cases)
Shoulder and knee arthroscopic surgery (over 5000 cases)
Sports Medicine subspecialty
Pain control and management and injection under guided ultrasound
Platelet-rich plasma (PRP) and protherapy
Arthroscopic shoulder surgery
Arthroscopic rotator cuff repair
Arthroscopic superior capsular reconstruction with allograft
Arthroscopic acromioplasty and bursectomy
Arthroscopic acromioclavicular (AC) joint resection
Arthroscopic SLAP and Bankart lesion repair
Arthroscopic Latarjet operation
Recurrent shoulder dislocation operations
Arthroscopic bicep tenotomy and tenodesis
Arthroscopic capsular release and adhesiolysis
Open bicep tenodesis
Arthroscopic elbow surgery
Arthroscopic ECRB/ECRL release
Arthroscopic loose-body removal
Total elbow replacement arthroplasty
Radial head replacement
Arthroscopic meniscectomy and meniscal repair
Arthroscopic meniscus allograft transplantation
Arthroscopic ACL & PCL reconstruction
Multi-ligament reconstruction
Arthroscopic cartilage regeneration treatment
Arthroscopic stem cell implantation
Arthroscopic patellar dislocation treatment
High tibial osteotomy and distal femur osteotomy
Minimal carpal tunnel release
Podiatric medicine (Hallux valgus, metatarsalgia, flat foot)
Complex fracture operation and conservative treatment
Stem cell treatment
Robotic arthroplasty surgery trained (MAKO)
CREDENTIALS
M.D. Ph.D., The Catholic University of Korea, Seoul, South Korea (2018)
Subspecialty in Sports Medicine, The Korean Society of Sports Medicine, Seoul, South Korea
AO Trauma Master Course certification (2017)
Residency Program, Orthopedic Surgery, Catholic Medical Center Department of Orthopedic Surgery (2009-2013)
Internship Program, Catholic Medical Center, Catholic University of Korea (2005-2006)
M.D., Yonsei University, College of Medicine, Seoul, South Korea (2005)
PROFESSIONAL EXPERIENCE
Head of Orthopaedics, Nanoori Korean Orthopedics and Spine, DxBone Excellence Center, Dubai, UAE (January 2020 – Present)
Head Director of Orthopaedics, Nanoori Hospital, Suwon, South Korea(March 2014 – December 2019)
Adjunct Professor, Orthopaedic Department, The Catholic University of Korea, Seoul, South Korea (2014 – 2019)
Director, Department of Surgery, Medical Corps of Korean Army, South Korea (2006 – 2008)
Fellowship at the Department of Elbow & Shoulder Arthroscopy, The Catholic University of Korea, Seoul, South Korea (2013)
PROFESSIONAL ASSOCIATIONS
Korean Shoulder and Elbow Society member
Korean Knee Society member
Korean Arthroscopy Society member
Korean Society of Sports Medicine member
Korean Orthopedic Pain Society member
Korean Orthopedic Ultrasound Society member
AO Trauma Asia Pacific member